We often get asked online through Instagram, Facebook, and other social platforms for our recommendations for RDB accessories. And while there are plenty of options available both online and in stores for you to choose from, there is only one place we trust when it comes to finding the right optic for your RDB. With an abundance of optic options at an affordable price point, Vortex Optics sits high on our list for a number of reasons. Before checking them out, here's a few of our picks that are available to you now.
Best RDB Scopes for Survival
Semi-automatic weapons are a mainstay for personal defense, competition and recreation. Modern semi-auto rifles are even widely used for hunting these days and their adaptability to any of the above disciplines is confirmation of their innovative features. The optics market is no different, there's a red dot or scope for just about every occasion. Below is a list of recommendations for the survivalists, backcountry hiker or small game seeker. These optics keep it simple, lightweight and low profile… exactly what you need in a long term loadout.
The Crossfire Red Dot. It features a 2 MOA dot and unlimited eye relief. It's simple to install, easy to operate, it's light, bright, rugged and comes in at a very low MSRP.
A Spitfire 1x or 3x Prism Scope comes highly recommended for the KSG or RDB series of rifles. Although it lights up day bright in green or red, it has an etched reticle, so there's no buttons to worry about in an emergency situation. The reticle design offers both speed and precision.
The Viper or Venom Red Dots are the lightest and smallest of the red dot options. They offer 3 MOA or 6 MOA dots and are best for all of you back country explorers. Their simple operation and low profile housing make them ideal for the RDB Survival or the CP33.
The Razor AMG UH-1 or "Huey" as it's affectionately known is by far the most rugged red dot out there. Its holographic system offers speed and precision while staying combat ready. This one is ideal for those that are hard on gear or frequent rough terrain.
Best RDB Scopes for Sport
There's nothing quite like pitting your wits and stamina against animals in the wild, and that's exactly what you can do with these scopes for your KelTec RDB. Whether you're executing short-range shots or focusing on something in the distance, each of these Vortex Optics rifle scopes are sure to keep your vision on point:
Considered "one scope to rule them all", the new Razor HD LHT allows you to execute perfect long-range shots. It's ideal for hunting or impressing your friends at the range. Whether you want to put an organic dinner on the table or smack some steel at 800 yards, the HD LHT won't let you down. Pair it with the RDB Hunter and get out there!
The Viper PST Gen II series of scopes has every variable optic you could possibly need. All of them are rugged performers, relied on by all types of sport shooters and hunters. Get the clarity you need and the durability you expect, without breaking the bank.
Best RDB Scopes for Competition
Keeping your stats at peak performance is vital in any competition situation, and competitive shooting is no different. You need to know that you can narrow your focus directly to the target, and be confident that your reticle will lead to optimum results every time. These are the rifle scopes that competitive shooters have come to rely on over the years that are the ideal complement to your KelTec RDB17, RDB Hunter or RDB Defender.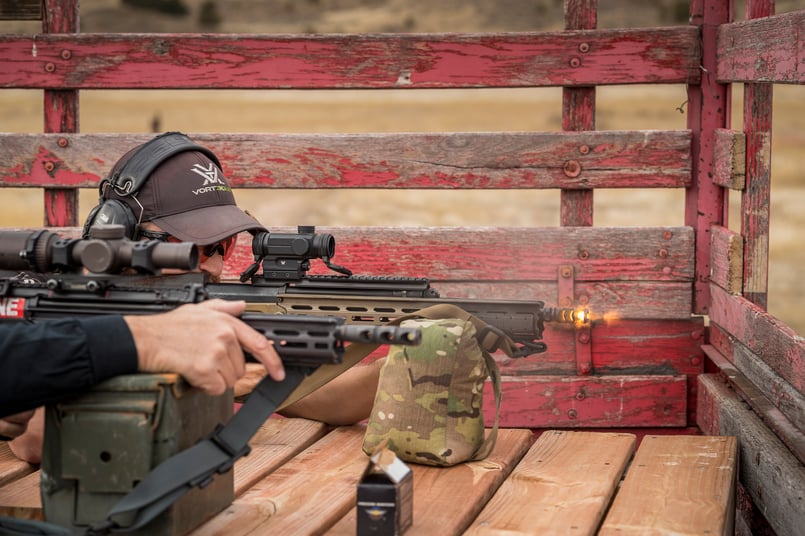 The Golden Eagle HD is specifically designed for long-range competitive shooters, with a massive 15-60 optical zoom, a 52mm objective lens diameter and generous eye relief. This beast will allow you to see everything from an elk at 1,200 yards, to little green men on Mars. Pair it with the RFB24 if you want to see how far you can stretch your favorite .308 cartridge.
The lighter weight of the Razor HD Gen II-E rifle scope will be appreciated after a long day at the range, for short- to medium-range tactical applications. For you serious 3-Gunners, we highly recommend the HD Gen III 1-10x24. Make those 600 yard shots or hose down a shoot house with ease.
Get the repeatable performance you need for competition with the Strike Eagle, series an accurate, reliable and lightweight option, while still having money left over for ammo. The 1-6x24 and 1-8x24 is very high-value and an excellent choices for new, up & coming competitive shooters.
The unique downward-ejection of the RDB rifle has made it a favorite of semi-automatic rifle lovers for years -- and for good reason. With the ability to be used equally well by right- or left-handed individuals, the RDB is a prime example of why we pride ourselves in making American-made weaponry. You can view our full range of innovative, high-performance firearms and accessories online or contact us at 321-631-0068 for help building your next firearm.