The rumors are true, we are discontinuing the production of the P11. In 1995 this double-stacked, 9mm pistol was the first polymer subcompact to hit the market. Reliability, durability, and accuracy have made this gun a staple for concealed carry firearms. The design has been copied by many, but its functionality and history can be matched by none. By sending off the P11 in true KelTec style, we're making room for engineering innovation and exciting, new pistol designs.
Honoring the P11 Warranty
Original owners of the P11 can still expect full-coverage servicing while replacement parts are available. Check here for more information on our return and warranty policies.
About the P11
The P11 is an incredible firearm that paved the way for modern concealed carry weapons. When we brought it to market, they were ready to ship and a huge success. We created an accessible, powerful handgun that revolutionized the way the world thought about concealed carry. The P11, a double-stacked, 9mm subcompact pistol with a 10 or 12-round magazine, provides a lot of firepower in a lightweight, yet durable polymer package. And at the time, that high capacity was unheard of for a pistol that was intended to be a take-everywhere, holstered, and ready-to-go tool.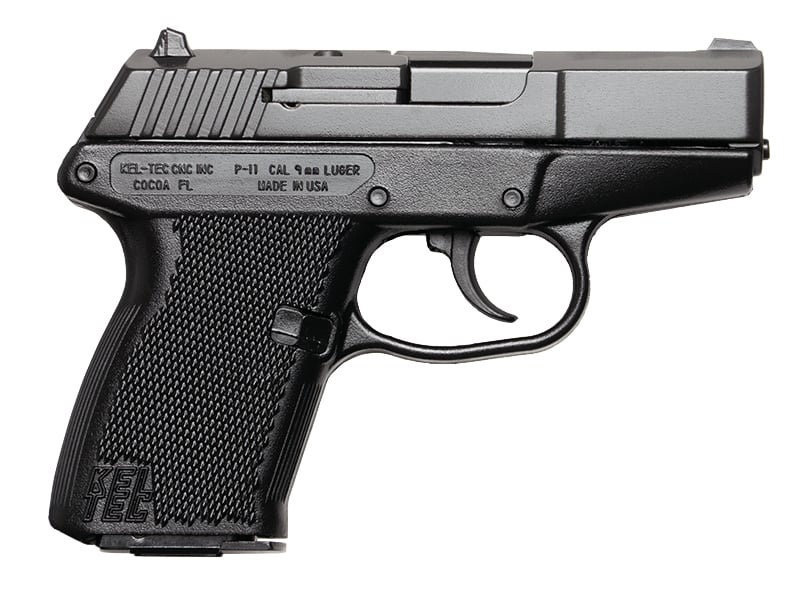 At 5.6" and 14 oz, qualified citizens of all sizes were able to easily incorporate it into their daily lives. Its locked breach and ergonomic design make for a compact and lightweight pistol that's easy to train with. Its perceived recoil, practical accuracy, and double-action trigger make for a relatively smooth shot in a small-sized handgun. Over the years the features of this pistol have been replicated by manufacturers of all sizes. Even as I write this, new P11 copies are being boasted as new and innovative.
KelTec stands for innovation. While the P11 paved the way for lightweight, maximum capacity concealed carry pistols, there's always more fun and exciting possibilities ahead. We're sad to see this one go but, excited for what's next.