Florida gunmaker KelTec stormed the shotgun world in 2011 with a brilliantly designed 12ga, pump-action bullpup. In the tradition of great American firearms innovation, KelTec is back with a leaner variant called the KS7.
Like its predecessor, the KS7 earned high praise at the 2019 NSSF SHOT Show in Las Vegas from international shooters and industry professionals alike. It's clear that the gun-loving folks at KelTec have taken the time and consideration to field feedback from early KSG owners to create a shotgun that plays a slightly different role at a competitive price point.
Although the KSG was a huge hit due to its dual-tube magazine ability to carry 12+1, 3" shells when filled, KelTec decided to slim things down a bit to offer a bullpup shotgun that has an advantage over all other single tube shotguns on the market. The KS7 offers the same capacity as most tactical, home-defense shotguns, but in a much smaller package. By narrowing the design down to a single tube magazine that holds 6+1, the handler enjoys enhanced maneuverability over a traditional 12ga platform.
Stripping about a pound off the KSG's unloaded weight, plus dropping a half-dozen shells, the KS7's enhanced agility and simplicity can make a significant difference in a critical home defense situation for the average shooter. The other upside is that the KS7's streamlined design makes it an improved backwoods hiking companion. Both weapons enjoy the same 18.5-inch barrel, 26.1" total length, and 12ga power.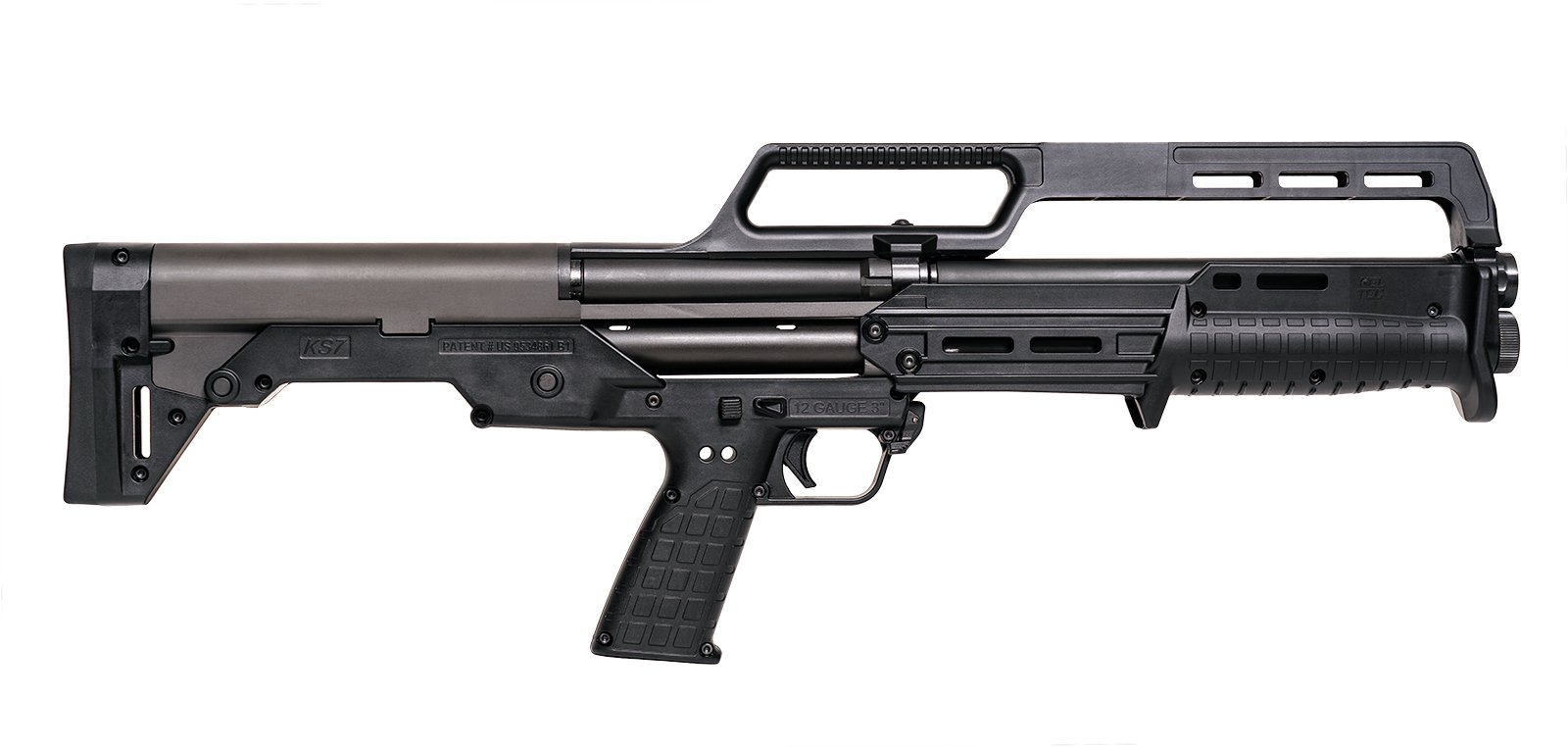 Putting the revolutionary trajectory of KelTec's KS series aside, this latest firearm stands alone quite nicely. The compact weapon sports a throwback carrying handle that doubles as a channel sighting system. And, the fiber optic bead enhances precision accuracy. In terms of classic pump-action, this shotgun employs ambidextrous, ergonomic engineering so that lefties or righties can consistently put slugs on target. Leave it to KelTec to bring old conventions into the 21st Century.
The redesigned pump presentation offers an ergonomic advantage some other weapons in its class are lacking. The distinctive flared forend addresses the need for a solid purchase on the business end and the KS7 also conveniently ejects and feeds from the bottom.
While the proud gun-makers at KelTec seem to have thought of just about every built-in upgrade imaginable, firearm enthusiasts who like to accessorize a weapon to their unique specifications will find room to grow with the KS7. This is an absolute perfect pump-action to mount a red dot optic on or go all-in with a laser sighting system. The relatively modest cost of this engineering dream offsets any additional investments you make... if that's your thing.
Three different colors are already shipping to KelTec distributors, on their way to gun shops in black, coyote tan, and olive drab. Given the sleek yet forceful aesthetics of the KS7, it also makes for an excellent showpiece in a true Second Amendment believer's home or office.
The proud, American firearm manufacturers at KelTec can put another notch in their belt with the KS7. It's a win. These bullpup shotguns rank among the more well-balanced, compact 12 gauges on the market today and an ultimate home-defense firearm of choice. Doubling down on their success from the weapon's big brothers, the KS7 slashes the cost of stand-your-ground home protection in half. The KS7 ranks as one of the most cost-effective, high value products worth owning today.