Ten years ago, we completely changed the world of tactical, pump-action shotguns. Today, we're still making the original KSG, KSG25, KSG Tactical, and KSG Compact. Each model is loved for its capacity, reliability, and bullpup design. All of our current KSG shotgun models are chambered for 3″ shells and are capable of firing a variety of shell sizes and a wide variety of projectiles. The dual tubes feature a selector switch for an extremely fast reload. They're also all downward-ejecting and completely ambidextrous. These aren't your grandpa's shotguns. The original KSG was released in 2011, today there are lots of great accessory options. Here's our essential rundown of what you need and a few optional upgrades you may not have thought about.
Two Necessary Accessories
One of the two accessories you absolutely need for your KSG is a sighting system. The KSG series does not come with sights, so finding the right system for you is important. What you're looking for is an optic or sights such as a high-quality red dot, a set of durable folding sights (we strongly recommend Magpul MBUS) or a combination of both. Having both insures that you'll be able to stay on target should something in your sighting system fail.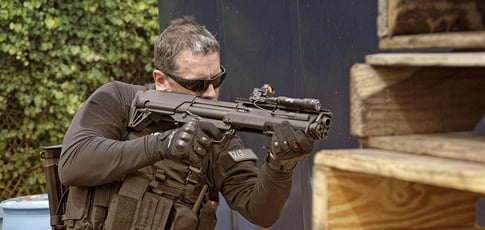 If your KSG has the honor of being your home defense weapon of choice, the other absolutely necessary accessory you'll want is a quality light. Having a quality light is important for target identification. The ability to identify a threat or non threat cannot be overemphasized. The very last thing you want to do in a critical situation is blindly fire shells at a target you cannot identify. There have been tragic cases recorded of one family member fatally mistaking another family member for a criminal. Avoid that at all costs… mount a durable light with an output that is best suited for your home environment to your KSG. I recommend Surefire. Although there are many excellent options out there, I personally have a Surefire Mini Scout Pro on a 45 degree mount on my home defense KSG.
Optional Accessories
Now that you have the necessary accessories, here's a shortlist of some optional accessories that just make everything much more comfortable and fun when using any of our guns in the KSG shotgun series.
First up is an extended butt-pad — a must for comfort. Next, you'll want to consider a vertical or angled grip. NOTE: The KSG25 comes with MBUS sights and a Magpul vertical grip. Both the KSG Tactical and KSG Compact come with a 450 lumen light and vertical grip built into the pump. We recommend either Magpul or KelTec grips for the other models. For people who live in colder climates, we recommend a Kydex cheek rest for your KSG.
We also recommend Sorbothane gel pads for even more comfort on the cheek rest — God'A Grip makes one specifically for the KSG. The combination of the two makes it so much more enjoyable to shoot.
Last up is the hand stop. It gives you a place to rest your hand when you are pumping the gun if the vertical or angled grip options are not for you.It's an affordable, excellent alternative.
Optional Upgrades
This roundup of optional upgrades is a list of some things you may not have thought about for your KSG shotgun. At the top of the list, we have tactical frame pins. This and most of the accessories mentioned are available in our online shop and are designed to replace the original KSG frame pins. These Tactical Frame Pins have a 1/4″ longer head to allow for easier take-down of the weapon. Another nice upgrade to consider is aluminum followers. For you KSG25 owners, they came pre-installed in your shotgun… enjoy. These can assist in feeding with certain types of budget shotgun shells. A choke adapter is always a good upgrade for buckshot and birdshot. It will allow you to close up the pattern of your shot for when you're shooting longer distances or open up your shot pattern in tight quarters. If you're satisfied with your shot pattern without a choke, perhaps a muzzle brake is right for you. A brake can mitigate felt recoil and gives the KSG a slightly longer muzzle. When paired with the KelTec extended butt pad, the KSG is a pleasure to shoot, which translates to longer, quality training days without shoulder fatigue. Lastly, get yourself a single-point sling mount. Both a left and right side single-point sling attachments are included in our kit.
The KSG was our first entry into the 12ga shotgun market, so naturally, we're proud of what we make and our community of responsible gun owners. If you have any questions about the accessories and upgrades listed here, give us a shout. We're more than happy to talk about guns with you all day long. If you already know what you want, you can also skip the line and purchase all of these accessories from our online shop.