It's a pretty good week when one bullpup rifle stands out among a field of 502 AR-15s. It's even better when a member of your shooting team brings home the silver medal in a worldwide competition against the best of the best in one of the most challenging sport shooting competitions in existence.
What Happened?
The KelTec Shooting Team captain just got back from representing the U.S. in the 2019 IPSC World Shooting Competition, and we've got a little bragging to do. Our very own Joe Easter took second place in the Standard Division, bumping out 86 other competitors and placed 49th overall out of 503 professional marksmen. We're proud of him and would like to point out, he was one of the few shooters not shooting an AR-15.
The IPSC World Shooting Competition brings the world's top sport rifle shooters to Karlskoga, Sweden for an all-out skill and rifle battle royale. It is the highest level of competition shooting in the world. It consists of 30 stages in which a shooter's accuracy, agility, speed, and firearm are put to the test. Joe shook things up and brought our RDB to a competition that is traditionally dominated by AR-15s. We couldn't think of a better place to test out Joe's marksmanship abilities and the precision of one of our favorite rifles.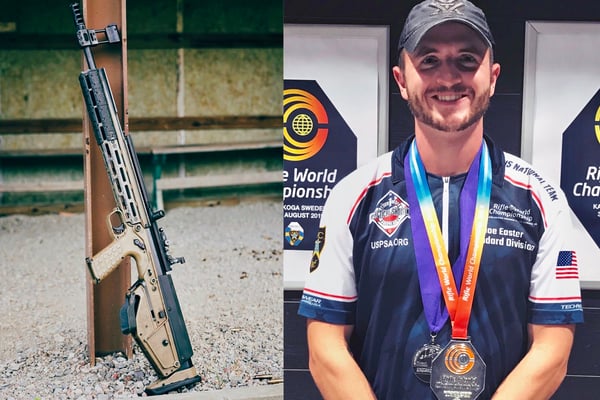 Bringing a Bullpup to an AR fight
Every other competitor at the IPSC Rifle World Shoot was sending lead through an AR-15. Why did we roll up with an RDB? Because we wanted to see how one of our bullpup rifles would stack up against the status quo. AR-15s have been around for 70 years. Seven decades of R&D gives this platform legacy status. So, we can't deny that they can be dialed in, accurate as hell, and reliable to boot. But we don't sit around here. We put our bullpups through the ringer and know that our innovative engineering, rigorous testing, and infallible quality control standards produce a rifle that shakes up the competition. We were impressed, but not surprised, to see Joe deftly maneuver through the stages, hit his mark, and outperform other competitors in his division.


The bullpup platform provided him a few competitive advantages. This competition is all about accuracy, but speed is a component as well. Competitors need to quickly move through the stages, but if they're not hitting targets, they're not getting points. Because of the relatively lightweight and compact package, Joe was able to maneuver through tight spaces and hit his targets with great efficiency. He didn't get caught up in tunnels or snagged in ports, it was easy for him to set up quickly, take aim, and fire.
"This setup is the most accurate I've ever fired. Everything is so compact, so you get the effect of the full-length barrel muzzle velocity, without the long range ballistic issues you can come up against with short-barrel rifles." - Joe Easter
Why The RDB?
Joe chose a 24" barrel RDB for the World Shoot because he was confident that his abilities paired with a balanced and compact rifle would give him the advantage he needed over the rigorous course. The Standard Division he competed in is the purest form of rifle competition. Competitors are only able to use iron sites. No optical scopes, no support devices, just you and your rifle. He engineered his own iron sites to suit his unique barrel situation. With the action and magazine behind the trigger, the amount of space he had to work to set up his site radius was compromised. Luckily, this guy is also pretty great at engineering and was able to put together a system that gave him the radius he needed to go the distance.

"It ran 100%. Any misses I had were entirely me. The only time I touched my 2nd backup rifle was to confirm zero before the competition started" - Joe Easter

We love bullpups here. Our RDB and RFB have redefined rifles and provide the only smooth, crisp trigger action on this style of firearm. Their ambidextrous ejection and adjustable gas systems provide customization and no-fuss shooting for competition shooters, hunters, and weekend plinkers alike. The RDB brings reliability and accuracy in a compact, balanced package. We are extremely proud to have Joe as a part of our shooting team. He's no doubt proud of his silver medal, and we're excited to prove that you don't need an AR to enjoy accuracy, reliability, and firepower in a rifle.