If you're looking to try out a folding carbine, let us introduce you to the SUB2000. This fun, semi-automatic carbine is offered in .40cal or 9mm and has all the ballistic performance that a handgun doesn't. It actually offers the best of both worlds with one caveat; although it's a pistol caliber, the 16" barrel gives it an advantage in distance accuracy and power. What we love about the SUB2000 is that it's foldable, light and easy to stow, making it ideal for situations like backpacking where convenience and space are essential.
If you're considering trying out this rifle, it's important that you also invest in the best accessories to get the most use out of your SUB2000.
A few well-chosen accessories can do a lot for you. KelTec and other reputable aftermarket companies offer a wide range of accessories for our customers. Read on to see our list of the top SUB2000 accessories that will help you get the most out of this firearm.
Bolt Tube Sleeve
This bolt tube sleeve offered by TANDEMKROSS is the perfect accessory for helping keep a buffer between your cheek and your SUB2000. The sleeve covers the metal tube, which gives your cheek a more comfortable place to rest and Tandemkross did an excellent job of making sure the sleeve matches the aesthetics of the SUB2000 while using a quality material.
MCARBO Optic Mount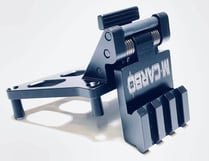 This mount offers rapid deployment that happens in just one click, a repeatable zero and easy operation, making it an excellent optic mounting platform for your SUB2000. Its innovative, high-quality design allows you to add a red dot and still fold the gun in half.
Offset Light Mount
This light mount gives you the opportunity to have an ambidextrous platform to mount your optic or weapon light at either the 1 o'clock or 11 o'clock position in the M-LOK slots of the SUB2000 forend. This mounting solution is made from mil-spec-anodized aluminum and features rounded corners to avoid snagging, along with beveled ends.
Mag Loader
Because no one likes to load a 9mm magazine, this military-grade universal magazine unloader and loader is perfect for those extended magazines. It's pocket-size, which makes it incredibly easy to carry around. What we particularly enjoy about this loader is that it also adjusts itself to the magazine, making it intuitive and easy to operate.
Sling Mounts
This sling mount is a great accessory to have on hand because it offers an attachment point and is made of anodized aluminum. It helps reduce snagging and also features a design that's anti-rotation to keep swivels from excessive spinning.
Other Optional Accessories for your SUB2000
These aren't the only accessories you can invest in for your SUB2000. There are a number of other accessories to keep on hand, including the following:
Extra mags
Various M-LOK attachments
Weapon-mounted light
Soft carrying case
Explore the High-Quality Firearms Offered at KelTec
KelTec is regarded as one of the best firearm manufacturers in the country. We take pride in offering innovative and high-quality firearms to keep our customers safe and satisfied. One of KelTec's goals as a company is to provide citizens and law enforcement with the best firearms to keep America free and protected. If you're interested in learning more about how our expert team can help you find the perfect firearm, visit our website today or give us a call at (321) 631-0068. We look forward to connecting with you!