With KelTec's history of creating innovative, outstanding firearms, it comes as no surprise to our customers that we struck gold once again with the SUB2000. This simple yet versatile pistol caliber carbine has proven itself to be one of our favorite products. Intuitive sights and adjustable stock represent just the tip of the iceberg of what this firearm brings to the table. If you've always wanted to find a firearm that combines the best of both pistols and rifles, then we at KelTec are happy to spotlight the SUB2000.
What Is the SUB2000?
The SUB2000 is a brilliant semi-automatic folding carbine featuring different options for pistol magazines. Keltec offers two available calibers, the 9mm and .40S&W. We believe responsible firearms enthusiasts will love how you can adjust and fold the SUB2000 16.25x7 inches. With this feature, you have the perfect firearm to carry with you on any adventure, from training sessions to hiking and hunting trips.
With a slim and sleek design, this firearm not only feels good in your hands but looks attractive, too. For customers wanting a flexible firearm with power, the 16 inch barrel of the SUB2000 delivers excellent performance with accuracy and velocity. Match these qualities with the firearm's versatility, and you've found your ideal balance. From the very moment you first have it in your hands, you can take advantage of the multiple uses for this pistol/rifle combination.
The SUB2000's Best Features and Highlights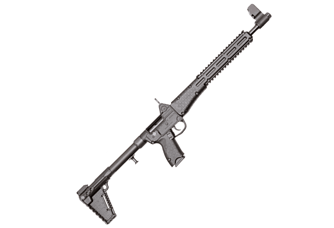 We're proud to say that the SUB2000 comes with a number of features that will quickly turn it into your go-to firearm. The longer barrel of the SUB2K gives a ballistic advantage and enviable accuracy, even at a distance. With a beauty like this, you'll thrive on the power and range of a carbine and the portability of a folded rifle.
The SUB2000 also takes several different magazines, another highlight for people who want versatility in a firearm. The Multimag version has ten different, easily changeable magazine catch options to choose from. The Glock 19 version can take any Glock 9mm magazine, while the Glock 23 version accepts any 40 caliber Glock magazine. As a result, Glock pistol enthusiasts won't have to worry about buying separate magazines for their new SUB2000.
Why You'll Love It
KelTec believes in producing superior firearms from high-quality materials. Our engineers aim to create a variety of products using a keen eye for innovation. When it came to the SUB2000, we set out to develop an adaptable, affordable firearm for people who value resourcefulness.
Here, you have a tool that prioritizes accessibility with its compact and lightweight construction. You can easily store it while traveling but quickly deploy it when the situation calls for an urgent response. Not only does it optimize your space and access, but you won't have to worry about magazine compatibility or changing ammunition. In fact, the SUB2000 offers you a perfect way to get in some carbine training with less expensive pistol ammunition.
Simple to operate, a breeze to maintain, there's no way you can go wrong investing in the SUB2000.
Uncover Newfound Potential With KelTec
With KelTec's impressive range of professional-grade firearms, you'll always find one that suits your needs. Check out the specs for the SUB2000 on our site, then feel free to explore our pistols, rifles, shotguns and firearm accessories. We carry a wide variety of accessories for the SUB2000, so you always have the parts you need to make your KelTec adaptable to your needs. Feel free to reach out to us at 321-631-0068 or on our website to learn more about KelTec's innovative, high-quality firearms.