Finding trustworthy firearms for competitions takes patience and experimentation. You never know the surprises you may encounter when testing out a new firearm for your next competitive venture. Keltec understands this. Our team designs top-tier, innovative handguns, shotguns, and rifles for qualified citizens to use in training and competitions. Today, we want to take a closer look at the specs and advantages of three Keltec firearms made with competition shooting in mind.
SUB2000 - Your Cost-Effective Dream Rifle
What Is It?
The SUB2000 is a semi-automatic folding carbine that Keltec offers in 9mm or .40 caliber. This rifle prides itself on its fantastic versatility. Its ability to fold means that you can easily carry and store it in tight spaces while quickly deploying it in time-sensitive situations. A 16" barrel combined with pistol caliber gives you a ballistic advantage and enviable accuracy. Because it takes a variety of magazine configurations, you optimize your pistol ammunition and maintain magazine compatibility.
Why Compete With It?
Competitions where specifically pistol caliber carbines are used have increased in popularity over the past few years, and many firearm owners want to keep up. With the SUB2000, you free yourself from potential competition limitations and keep things simple. You have this one firearm with one set of magazines and one set of ammo, making this carbine incredibly cost-effective. People just starting out in competitions will enjoy the feel, ease, and versatility of a firearm like this without hurting their initial budget. Firearm competition pros will have fun bringing the SUB2000 to a competition and testing its true flexibility and capabilities.
RDB - Reliability and Accuracy at Their Finest
What Is It?
The RDB series, named for its most notable feature, gives you one of Keltec's best-designed firearms. This downward-ejecting bullpup rifle has the distinct advantage of being ambidextrous. Keltec's team designed the RDB with a specific magazine catch and release placement, intuitive safety, and reversible operating handle in order to achieve this goal. A smooth trigger and 1:7 twist barrel give this firearm a 5.56/.223 ballistic advantage and superior accuracy in a fun, compact package.
Why Compete With It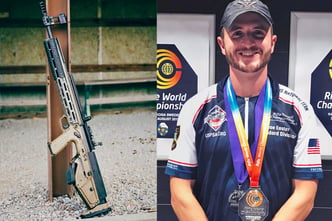 The RDB has received a glowing stamp of approval from the Keltec firearm team and International Practical Shooting Confederation. In 2019, Keltec's firearm team itself used the RDB at the IPSC Rifle World Shoot. Keltec team captain, Joe Easter placed 2nd in the Standard division with his RDB. Competitions prioritize speed and accuracy in their participants' shooting, which makes Keltec's RDB series perfect for the job. You can easily maneuver in and out of tight spaces with this firearm in your hands thanks to its compact size, and it beautifully shoots long range due to the full barrel length. You will never have to waste time setting up this rifle or getting into position before you take aim and shoot the target.
CP33 - The Upgraded Standard
What Is It?
This .22 target pistol gives you the ideal firearm for training and competition. It offers adjustable fiber optic sights, a 9.5-inch sight radius and a threaded barrel. Flexible to your needs, you can use your preferred optics and accessories with this firearm, including a .22 suppressor. The safety lever on both sides, heel catch magazine release, and location of its charging handle at the back of the receiver all contribute to its ambidexterity.
Why Compete With It
Keltec made the CP33 for competitions. CP stands for Competition Pistol, and it holds an impressive 33 rounds in the magazine. This beats the more common 7-10 rounds, and the firearm boasts more modularity than a standard bullseye pistol. Its 9.5-inch sight radius and 5.5-inch barrel length mean improved accuracy, while ambidextrous controls give you ample room to play with the CP33. This pistol will bring more thrill to your tactical training and competitions in a cost-effective way.
Dependable, Quality Firearms For Every Situation
Here at Keltec, we know the importance of creating well-crafted firearms. Our high-quality products mean you can always trust your firearm in training, competition, and out in the world. Indulge your curiosity by exploring our collections of pistols, rifles, and shotguns.